String Quartet No.2 was composed in Devonport, Auckland, between November 1994 and February 1995 with financial assistance provided by the New Zealand Composers' Foundation and the Arts Council of New Zealand Toi Aotearoa. The writing of the quartet was inspired by a love of the medium, particularly as a viola player having played two late quartets by Beethoven (op. 132 & 135) and the opus 74 quartet in close proximity to the composition. The first performance was given at the Watershed Theatre, Auckland on the 10th March 1995 by Simon McLellan & Sarah Hart (violins), Judith Williams (cello) and with the composer as violist.
Denys Trussell wrote in a subsequent review (Quote Unquote, April 1995): "Nigel Keay...had his substantial and dramatic Second Quartet given its first performances at these concerts. It is in part a synthesis of the strictly modernist and the freer post-modernist harmonic constructions: Keay is moving away from a music of sustained dissonance in this work towards a music where consonance and dissonance interact. The middle movement, slow and introspective, is a striking instance of this."
Since then String Quartet No.2 has established itself as one of the composer's most-performed, and most widely-performed works having been played in New Zealand, Thailand, Japan, France and Germany by several different formations.
Nigel Keay's Second String Quartet was performed at the 17th Conference and Festival of the Asian Composers League in Bangkok by the Ensemble Contemporary Alpha (Tokyo National University of Fine Arts and Music), and at the "Stella Nova" Concerts in Tokyo.
It has been performed several times in New Zealand by the Nevine String Quartet (Elizabeth Patchett & Janet Armstrong - violins, Peter Barber - Viola, & Robert Ibell - Cello (members of the New Zealand Symphony Orchestra)) whose first performance of it was in 1997 (see programme pdf). A recording of their performance in 2002 was broadcast by Radio New Zealand's Concert station and can be heard on its Resound page along with an introduction by Kenneth Young.
String Quartet No.2 has also been performed also in NZ by the Ensemble Philharmonia (members of the Auckland Philharmonia Orchestra), and was performed in 2004 & 2005 in Paris and Germany by the Quatuor Aphanès.
In 2011 the Quartet was released on the Blumlein Records CD Music for Small Groups (CD-A023) performed by Eugene Lee, Charmian Keay, Joe Ichinose & Gabriel Casalis. This version was broadcast on Radio France Musique in August 2013.
See also: String Quartet No.1 (1983)
Cette page en français

Performance History:
First performance: Watershed Theatre, Auckland, 10th March 1995 by Simon McLellan & Sarah Hart (violins), Judith Williams (cello) Nigel Keay(viola).
Ensemble Contemporary Alpha (The Tokyo National University of fine Arts and Music), Tuesday, December 5th, 1995 (8pm) in the Chulalongkorn University Auditorium as part of the 17th Conference and Festival of the Asian Composers League held in Bangkok (2-9 December 1995).
Nevine String Quartet, Saint Andrew's on the Terrace, Wellington, NZ, 25th June 1997.
Quatuor de Capriccio (Geoffroy Voisin and Estelle Fouillet - violins, Nigel Keay - viola, and Amélie Mabire - cello), la Maison de Quartier de Venoix, Caen, 5pm Sunday 7th May 2000.
Ensemble Philharmonia (Auckland) 23, 24 & 25 November 2002. Miranda Adams & Mark Bennett (violins), Christine Bowie (viola), Claudia Price (cello). Saturday, Nov. 23, 12 noon, Auckland City Art Gallery Theatre, Sunday, Nov. 24, 12 noon, Titirangi Community House, Monday, Nov. 25, 12 noon, Franklin Arts & Cultural Centre, Pukekohe.
Quatuor Aphanès, Kleines Theater Oberammergau at 8pm, Saturday 2nd October 2004.
Korutet, Wednesday 24th September 2014, 7.30pm. at One2One Café (121 Ponsonby Rd, Auckland NZ).
Korutet, Wednesday 8th October 2014, 20h30, at the Église protestante unie de Pentemont, 106 rue de Grenelle, Paris 7ème.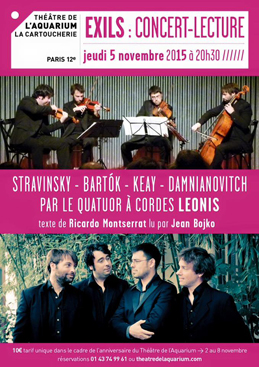 Quatuor Leonis, 22nd March 2015 at Théâtre de l'Aquarium, La Cartoucherie, Vincennes, Paris. Poster of concert (jpg)
Quatuor Leonis, Friday 29th May, 2015, 8.30pm, at the Maison du peuple, Fourchambault, France as part of their "Exiles" programme which also included works by Bartok & Damnianovitch.
Quatuor Leonis, 5th November 2015, 8.30pm at Théâtre de l'Aquarium, La Cartoucherie, Vincennes, Paris.