In December 2011 Blumlein Records released Music for Small Groups, a CD of chamber music by New Zealand native Nigel Keay, who has forged concurrent careers as composer, violist and conductor. Born in Palmerston North in 1955, Keay played viola in both the Dunedin Sinfonia and the Auckland Philharmonia Orchestra, having held the position of composer-in-residence with the latter as well as at the University of Otago and the Nelson School of Music. Several of his major work commissions were supported by the Arts Council of New Zealand, notably his 1991 opera At the Hawk's Well, and readers may recall the premiere of his Viola Concerto with soloist Franck Chevalier at the 29th International Viola Congress in Wellington in 2001. Since 1998 Keay has been a resident of Paris, where he is active as a free-lance violist and composer. He was a founding member of Quatour Aphanès and a co-founder of Orchestre 2021. Music for Small Groups, the first commercially available recording of his chamber music, was funded by a grant from the New Zealand/France Friendship Fund.
Five works are included on the CD: the Trio for clarinet, viola and piano Adagietto Antique (2009); Variations on a Theme from At the Hawk's Well for piano trio (2001); the Duo for violin and viola Visconti Variations (2008); his second String Quartet (1995); and Terrestrial Mirror for flute, viola and harp (2004). Keay plays viola on the first and last of these and produced the recordings of the other three works.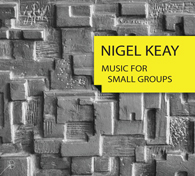 At first glance certain aspects of Keay's music might seem fairly traditional, even conservative. All of the works on the CD are scored for familiar instrumental ensembles like the string quartet or the piano trio; even the combination of flute, viola and harp, famously used by Debussy in his last and greatest piece of chamber music, has a substantive literature. Apart from the single-movement piano trio, each work consists of three or four movements with straightforward tempo indications in Italian, totalling between fifteen and twenty minutes in length. While the rhythm is often complex, and sometimes extremely so, there are few changes of metre or internal tempo in most of the movements. Most unusual of all, however, is the utter absence of any extended instrumental techniques or colouristic effects. The piano is played solely on the keys; the winds eschew multiphonics and eccentric tonguings; and as for the strings, there is not a single tremolo, harmonic, col legno or even pizzicato note to be heard anywhere. For an album of modern instrumental music, this exclusive reliance on standard playing technique is truly remarkable.
Yet perhaps it is this freedom from technical gimmickry, or the use of tone colour for its own sake, which allows Keay's individual voice as an artist to shine through. His approach to composing chamber music is clearly derived from his extensive experience as a performer (and in any chamber ensemble, the violist is at the centre, holding it together); what matters is not the array of sounds that the instruments can produce, but the relationships between them. The best way I can explain it is that Keay treats the instruments in his ensembles not as colours on a palette, but as characters in a play, and the tension and resolution that impel the music result from their dramatic interplay. This is perhaps best exemplified in his Viola Concerto, where the orchestra functions not as an aggregate entity supporting (or opposing) the soloist, but as a large cast of characters with whom the soloist, as hero, interacts in various combinations during the course of a grand adventure. Similarly, in the trio Terrestrial Mirror (the title is a phrase coined by New Zealand author Michael King, in which he compares the Pacific Ocean with its scattered islands to a reflection of the night sky), the instruments represent three natural elements – earth (harp), wind (flute), and water (viola) – as they converge to carry the listener along on a haunting musical voyage.
By casting the instruments as personalities, rather than sound sources, Keay's works mirror the experience of making music – especially chamber music, where players agree and disagree, plot and scheme, argue and reconcile, fall in and out of love, and otherwise undergo all the joy and heartbreak of the human condition. That is precisely how it should be, for music finds its greatest expression as a dramatic art, rather than merely a decorative one; and speaking as a musician, I would much rather have a definite role to play, even a small one, than be just another brick in a wall of sound. This is not to say that Keay's music is bound to any traditional compositional style or practice, for despite working within the parameters of standard instrumental technique he has produced music of striking originality that defies categorisation. While some of Keay's earlier works, such as his first String Quartet of 1983, were heavily influenced by the Second Viennese School, his more recent music has progressed beyond dogmatic atonality while at the same time coming to terms with its legacy. Many of the movements in Music for Small Groups have a definite tonal centre (Keay seems to have an affinity for C-sharp/D-flat, and for the Mixolydian mode) as well as a florid chromaticism. This is most apparent in the first movement of the clarinet trio, in which sustained notes in one instrument serve as a fulcrum for continuously modulating diatonic gestures in the other two, creating a shimmering, kaleidoscopic cascade of great richness and beauty. Likewise, in the outer movements of the second String Quartet (and to an equal extent in the At the Hawk's Well variations), the cello drives the music forward with pulsating, syncopated octaves that rather remind me of the bass guitar riffs I used to play during my years in rock and roll bands, as the upper strings grapple for ascendancy. The quartet's central movement comprises its emotional as well as its formal core, a tender Lento ed espressivo with an absolutely exquisite melody for the viola: by far the most lyrical track on the recording, and, in my opinion at least, the most beautiful.
Keay's melodies tend to cover a wide range – leaps of a ninth or tenth are not infrequent – like an actor with a well-modulated voice delivering a line for maximum dramatic impact. His phrases are generally of irregular length, dovetailing together unpredictably, and often in widely varying registers and dynamic levels, as the instrumental voices react and respond to one another. By no means a lesser strength of Keay's music is his imaginative endings, which always come as an unexpected surprise yet are completely logical and satisfying, like a play with a piquant dramatic twist just before the curtain falls.
All of the performances on Music for Small Groups are uniformly fine; however, I especially wish to commend violinist Simone Roggen and violist Cyprien Busolini for their sensitive interpretation of the Visconti Variations, which, as the only duo on the CD, poses exceptional demands for its players. Roggen and Busolini use subtle gradations of tasto and ponticello, as well as bow speed and pressure, to emphasise the contours of the phrasing, showing keen insight into Keay's music and bringing a fulsome depth to the performance.
For many decades now, much new music, especially that which has gained widespread attention, has been experimental in nature; but in music, as in science, the vast majority of experiments yield negative results. By all means let us have composers who can create sounds never heard before and devise new ways of producing them, but novelty for its own sake should never be the sole, or even the foremost, goal of the artist. One can have something original to say without having to invent a completely new vocabulary. In this collection of chamber works, Nigel Keay has shown that a composer with a performer's insight and experience may employ these familiar idioms and formats in startlingly new ways. Even after multiple hearings, they continue to disclose new surprises. I have deliberately refrained from comparing Keay's music to that of any other composers, partly because I honestly cannot think of any, and also because such comparisons invariably reveal more about the reviewer's listening habits than they do about the music in question. Curious lovers of chamber music are advised to hear it for themselves, and in so doing discover an exciting and original voice in new music.
Music for Small Groups may be ordered online from SOUNZ, the Centre for New Zealand Music, at www.sounz.org.nz. Scores and parts may be downloaded directly from the composer's website, www.nigelkeay.com.

First published in the ANZVS Journal No.32: November 2012