The duo is in three movements and is approximately 6' 45" minutes in duration.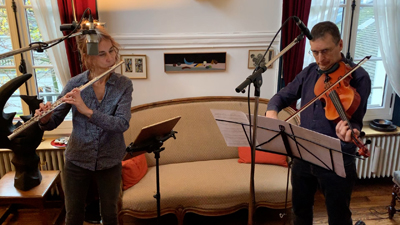 The title of the duo,
Labyrinthe
, is a reference to a bas-relief in bronze, with the same title, created in 1974 by the sculptor Karl-Jean Longuet. I saw an anology in the duo to the architectural shapes in the bas-relief, which itself had been inspired by a reflection on aspects of music. A photo of the bas-relief was featured on the cover of the CD
Music for Small Groups
. This CD included a recording of
Terrestrial Mirror
for flute, viola and harp, and the duo was in part conceived as a possible companion piece for the trio, being a sub-grouping of that combination. On the music itself, the second movement is somewhat a patchwork of tonality-based cells going in and out of phase with each other while the work ends with material of a chorale-like feel based on earlier in the duo.