Nigel Keay - Four Piano Pieces (1983)
Duration: ca. 7' 30"
Listen to Gerard Parsons play Four Piano Pieces on the Radio New Zealand Concert website; https://www.radionz.co.nz/concert/programmes/resound/audio/2584385/keay-four-piano-pieces
Four Piano Pieces (PDF, 8 pages, 380Kb)
Programme Note;
Piano Piece 1 is constructed using a 12-note fixed-register technique where all twelve semitones are employed, but each one in its own unique register. The notes are grouped relatively closely around the centre of the keyboard to create three different transpositions of the melodic motif that createsthe effect of a modulation in the harmony. Piano Piece 1 is a slow lyrical piece born out of a seemingly academic constraint in its construction.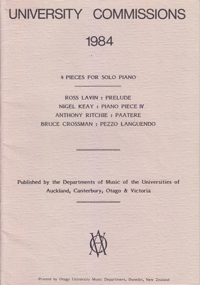 Piano Piece 2 is constructed using rhythmic groupings of 6 or 12 notes with some cross-rhythmic elements.
Piano Piece 3 is written around the idea of expressive repeated notes in a chordal context creating a harmonic resonance.
Piano Piece 4 was composed in 1983 and makes use of modes of limited transposition, in this case the recurring tone/semitone/tone/semitone etc pattern derived from the last chord of Piano Piece 1.
Piano Piece 4 was included in "University Commissions 1984" published by the Departments of Music of the Universities of Auckland, Canterbury, Otago & Victoria. Printed by the University of Otago Music Department.