fr.nigelkeay.com (page en français)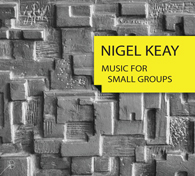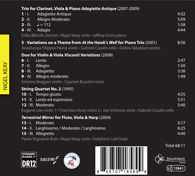 Newly released CD: Nigel Keay Music for Small Groups
Blumlein Records (CD-A023)
The CD is available from the following specialised record stores in Paris:

Souffle Continu, 22 rue Gerbier 75011 Paris - Phone: +331 4024 1721
La Dame Blanche, 47 rue de la Montagne Sainte-Geneviève 75005 Paris - Phone:
+331 4329 6842
List of works/tracks :
Trio for Clarinet, Viola & Piano (2009) Adagietto Antique: Erika Bliznik - clarinet, Nigel Keay - viola, Jeffrey Grice - piano
Recorded at l'Atelier de la Main d'Or, 9 passage de la Main d'Or, Paris (15 October 2010). Sound engineer: Andrew Levine.
Piano Trio "Variations on a theme from At the Hawk's Well: Anastasiya Filippochkina (NZ) - violin, Gabriel Casalis - cello, Debra Takakjian - piano
Recorded at the residence of the New Zealand Ambassador to France in Paris (2 December 2009). Sound engineer: Nigel Keay.
Duo for Violin & ViolaVisconti Variations (2008): Simone Roggen (NZ) - violin, Cyprien Busolini - viola
Recorded at the residence of the New Zealand Ambassador to France in Paris (1 June 2010). Sound engineer: Nigel Keay.
String Quartet N° 2 (1995): Eugene Lee (NZ) & Charmian Keay (NZ) - violins, Joe Ichinose - viola, Gabriel Casalis - cello
Recorded at the Maison du quartier la Plaine, Saint-Denis (22 March 2010). Sound engineer: Nigel Keay.
Terrestrial Mirror for Fute, Viola & Harp (2004): Paolo Vignaroli - flute, Nigel Keay - viola, Delphine Latil - harp
Recorded at the residence of the New Zealand Ambassador to France in Paris (7 March 2011). Sound engineer: Andrew Levine.
Musicians biographies (translation of biographies to English in progress):
Anastasiya Filippochkina
Originally from Kiev, Ukraine, Anastasiya Filippochkina received her musical education from Tchaikovsky National Conservatory of Ukraine (1997-8), the University of Canterbury School of Music, NZ, (2000-3) gaining a B.Mus in Performance, and from the Eastman School of Music, USA, (2004-6) gaining a M.Mus in Performance and Literature. Her teachers include Oleh Krysa (2004-6) USA, Jan Tawroszewicz (1999-03) NZ, Olga Rivnyak (1997-98 UKR), Vadim Borisov & Alexander Panov.

Anastasiya's orchestral experience includes: Handel Collection Orchestra, UK (2008-09), Southbank Sinfonia, UK, (2008)
- in collaboration with; the Academy of St.Martins in the Fields, the Royal Opera House, BBC Concert Orchestra, the National Theatre
Russian Virtuosi of Europe Chamber Orchestra, UK since 2008, Principal 1st violin of the Christchurch Symphony, NZ 2007, Toronto Sinfonietta, Sinfonia Toronto, Canadian Sinfonietta, CND '07, 'Ossia' Contemporary Music Ensemble, USA, Rochester 2004-06, Mercury Opera Company, USA, Rochester 2004-06, Christchurch Symphony Orchestra, NZ 1999-04, L'Estro Armonico Chamber Orchestra, NZ (2000-04), New Zealand Symphony Orchestra, NZ (2000-04)

Anastasiya was awarded the Elman Poole Award in 2008 (in collaboration with NZ/UK Link Foundation), the Dame Malvina Major Foundation Emerging Artists Excellence Award in 2005, the Eastman School of Music Scholarship (2004-06) ,the Lady Adrienne Stewart, Sponsorship for the posgraduate studies at the ESM, and from Creative NZ, the 2004 Jack McGill Scholarship (towards Masters at the ESM). The AMI Insurance, Players Development Scheme Award, 2004
Gabriel Casalis
Après un premier prix de Violoncelle au CNR de Boulogne-Billancourt avec Xavier Gagnepain et une formation d'analyse, d'écriture et de musique de chambre, il obtient un Prix de Perfectionnement à l'unanimité au CNR d'Aubervilliers-La Courneuve. Il travaille ensuite auprès de Michael Hell, soliste à l'Orchestre Philharmonique de Munich. Violoncelliste du Quatuor Jadeite, il se produit dans de nombreux concerts en France, en Espagne et en Allemagne. De plus il effectue régulièrement des remplacements à l'Orchestre National d'Ile de France et est titulaire à L'Orchestre Lamoureux. Par ailleurs, habitué aux enregistrements en studio, il apparaît dans plusieurs album, comme " Histoire" de Nicolas Peignet, « From N-Y to Rio » avec S. Reuben (Ness Music), « Je te dirais que tout est beau » de Cristina Marocco (Playon), « Je donne ma langue au chant », Kids factory, (Taklit)… Intéressé par la pédagogie, est professeur de violoncelle et musique de chambre à l'école Koenig à Paris, intervient comme professeur au stage de Lions-sur-Mer. Egalement passionné de Jazz, il a intégré, comme bassiste, des formations telles que le Big-Band, le Quintet swing, le Quartet…
Simone Roggen
Simone Roggen, née d'un père suisse et d'une mère sud africaine, est originaire d'Auckland en Nouvelle Zélande. Elle a commencé le violon avec la méthode Suzuki puis a obtenu son Masters de musique en 2004 avec distinctions. Jouant avec des ensembles de chambres et orchestres, son violon l'a fait voyagé en Autriche, Italie, Danemark, Chine, Hong Kong, Taiwan, Singapour, Australie, Tonga et en Nouvelle Zélande. En 1997 et 1998, elle remporte la compétition nationale de musique de chambre en Nouvelle Zélande (New Zealand National Chamber Music Competition). En 2006, Simone Roggen fut la première néo zélandaise à être acceptée au cours Thy de musique de chambre au Danemark. En 2009, elle étudie avec Giuliano Carmignola dans sa classe pour soliste au conservatoire de musique de Lucerne. Simone a joué dans de nombreux types d'ensembles: baroque dans des églises européennes et même avec des groupes hip hop dans des discothèques japonaises. Simone Roggen est membre d'orchestres depuis l'âge de 8 ans. Elle est membre de l'orchestre de chambre, Spira Mirabilis.
Cyprien Busolini
Cyprien Busolini is a versatile musician navigating freely between free improvisation, classical and contemporary music. He regularly accompanies dance and theatre.
He obtained a First Prize in Viola at the Regional Conservatory (CNR) of Rueil-Malmaison while in the class of Françoise Gneri, then he undertook an advanced study programme with P. Faure and Pierre Henri Xuereb. Very quickly attracted to contemporary repertoire, he gained further experience with the ensemble Alternance and Alain Damiens in the ensemble A. Propos. Cyprien Busolini has a keen interest in contemporary music, particularly in newer works, has led him to work with a number of composers, that includes Mirtru Escalona-Mijares, Luis Naon, V. Laubeuf, L. Thirvaudey, Nigel Keay, Hans Ulrich Lehmann whose works count a number of premieres given by him either as a soloist or in an ensemble.
In 2007 Garth Knox invited him to participate in the recording of the disc « Viola Spaces », and since 2008 he's been a member of the contemporary music ensemble C Barré in Marseille. He's also been a soloist in the Radio France Festival in Montpellier, the nuit blanche (Paris), the Chartreuse de Villeneuve-Lez-Avignon and at the Minoterie Theatre in Marseille with the ensemble C Barré... Elsewhere he has performed as an improviser, which has led him to play in Berlin, Zürich, Lucerne, Istanbul, Bordeaux, Paris.... He has crossed paths with Joëlle Léandre, B. Phillips, J. Hamilton, Marc Ducret during training sessions. Through improvisation, he experiments with the relationship between music, dance and above all the spatialisation aspect of the musician.

Eugene Lee
Eugene Lee, born in South Korea in 1986, began studying the violin at age five. He studied at the Guildhall School of Music and Drama with professor David Takeno. After moving to New Zealand in 1995, he made his debut with the Auckland Philharmonic Orchestra at age 14 for the Starlight Symphony Festival and since then, he has performed with the New Plymouth Symphony, Auckland Youth Orchestra, St. Matthew's Chamber Orchestra and the Auckland Symphony Orchestra. He won The Gisborne Music Competition in 2002 and was the New Zealand Young Musician of the Year 2004 which was broadcasted on TV One.
In 2005, he was one of the eighteen chosen, and the only New Zealander, to compete in the Michael Hill International Violin Competition. In 2007, he won the University of Auckland Music Competition.
Since 2003 Eugene has been concertmaster of the New Zealand Korean Philharmonic Orchestra and from 2006 was leader of the University of Auckland Symphony Orchestra and the University of Auckland String Ensemble. In 2009 he was leader ofthe South Bank Sinfonia and became a member of the Idomeneo Quartet. Eugene is currently studying at the Guildhall School of Music and Drama as a Fellow with the Idomeneo Quartet.
Charmian Keay
London-based violinist Charmian Keay was born into a musical family and has played the violin for as long as she can remember. Mainly taught by her mother Miranda Adams, other teachers included Justine Cormack, of the New Zealand Trio, Kevin Lefohn, director of the Queenstown Violin Summer School (NZ) which Charmian attended in January 2006, and Tessa Petersen. She studied for her Postgraduate Diploma in Performance as a Trinity Laban Scholar at the Trinity Laban Conservatoire of Music and Dance with Matthew Trusler, one of Britain's most acclaimed solo violinists.
Charmian Keay completed ATCL on the violin at age 14, and completed her Bachelor of Music with Honours (First Class) in Performance Violin in 2008 at the University of Otago in New Zealand. She was a violinist in the NZSO National Youth Orchestra in 2005 - 2008. After graduating from the University of Otago she won the Elman Poole Fellowship and was offered a place in the Southbank Sinfonia, based in Waterloo, London for the year in 2009, and lived there until 2012. On returning to New Zealand she became an Associate player of the Auckland Philharmonia Orchestra.
www.charmiankeay.net
Joe Ichinose
Joe Ichinose comes from a large family of string players and has played the viola, as well as the violin, from an early age. At 15 he won the 'Outstanding Performer' award at the North London Music Festival. He studied at the Royal Northern College of Music, graduating in 2006. Since then he has primarily been a chamber musician, playing with various chamber music ensembles performing throughout the UK, Europe and USA. Joe has also played regularly with the Southbank Sinfonia from 2007 – when he was a member – up until the present. Joe was a member of the Galitzin Quartet.
Erika Bliznik
Originally from Boston, Erika Bliznik studied with Jonathan Cohler at the Longy School of Music and with Riccardo Morales, Clarinet Solo of the Philadelphia Orchestra, and former soloist of the Metropolitan Opera in New York. She is presently a doctoral candidate in New York. She studies in Paris with Philippe Cuper, clarinet soloist of the Opéra National de Paris.
Nigel Keay
Originally from New Zealand, Nigel Keay has lived in France since 1998. He has always been involved in the perfomance of his own works either as a conductor or viola player. Nigel Keay's earlier works were sometimes atonal however since the 1990s his music has included more tonal elements and is often inspired by literary and philosophical ideas.
Jeffrey Grice
Jeffrey Grice (piano). A New Zealander, long resident in France, Jeffrey Grice has performed regularly in Europe and France as a soloist and chamber musician. In 1999 he was made an "Officier de l'ordre des Arts et des Lettres" by the French government for services in the field of music. Born in Christchurch Jeffrey Grice studied languages and music at Auckland University. He then continued his piano studies in Paris, obtaining the Licence de Concert de l'Ecole Normale Supérieure de Musique. Other formative influences came from a year spent in Israel with Enrique Barenboim, and from the coaching of Charles Rosen and Florencia Raitzin.
A laureate of the Yehudi Menuhin Foundation, the Cziffra Foundation and the Sophia-Antipolis Foundation, performing regularly in Europe and Japan as a soloist and chamber musician, with many prominent conductors and performers.
He has recorded in Europe for Calliope, Erato and Integral Classic and in Japan for Sony Classical, Cosmo Village and JVC.

Paolo Vignaroli
Paolo Vignaroli was born in Perugia in 1982. He studied from the age of 15 under the guidance of Mario Ancillotti at the Scuola di Musica di Fiesole (Florence).
In 2001 he graduated from the Conservatory of Siena, Italy, with the highest marks under the guidance of Luciano Tristaino. Then he attended the Master of Arts in Music Performance at the Lugano Musik Hochschule (Switzerland) with Mario Ancillotti. He also attended master classes with Davide Formisano, Eva Furrer, Mario Caroli, Michele Marasco, Glauco Cambursano, Bartold Kujiken.
In Paris he obtained the postgraduate Diploma at the "Conservatoire à Rayonnement Régional de Boulogne-Billncourt" in the class of Céline Nessi and Pierre Dumail.
He received important prizes in appreciation of his special artistic achievements in numerous national and international competitions which include the Nicati Contemporary Music Competition 2009, Fusignano Chamber Music Competition 2007, Ovada International Flute Competition 2006, "S.Gazzelloni" Prize 2005, Riviera Etrusca Competition 2003.
He served as Principal Flute in the Orchestra Sinfonica di Grosseto, Orchestra Accademia della Libellula, Trasimeno Chamber Orchestra, Lugano Chamber Orchestra.
Paolo specialized in contemporary music and has worked with the following composers: Oscar Bianchi, Benoit Moreau, Philippe Hurel, Clement Gadenstatter, Ada Gentile, Ofer Pelz, Julien Malaussena.
Paolo has attended masterclasses in contemporary music repertoire at Darmstadt Ferienkurse (Germany) and Centre Acanthes (Mets, France).
In 2007 he played at IRCAM in the first performance of the piece for solo flute and live electronics Ircam Projet III by David Adamcijck.
He was invited as a soloist to the Lucerne Festival 2010 to play two first performances of new works by Oscar
Bianchi, Benoit Moreau and Annette Schmucki.
Other areas of specialization are improvisation, and expanding flute techniques on bass and alto flutes.
He's currently the flutist of Ensemble Acouphène. He plays in duo with the pianist Filippo Farinelli as well as with the harpist Iole Cerri.
Delphine Latil
Jeune artiste interprète, Delphine Latil s'est déjà produite en soliste et musique de chambre dans de nombreux concerts en France (salle Cortot à Paris, Cathédrale de Rouen, Cirque de Reims...) et à l'étranger (Bishopgate Institute de Londres, Teatro Giovanni de Castelleone, Historische Stadthalle de Wuppertal...).
Diplômée du Conservatoire National Supérieur de Musique de Paris dans la classe d'Isabelle Moretti, elle a été formée dès son plus jeune âge, à l'Ecole Nationale de Musique de La Rochelle, puis au Conservatoire National de Région de Nantes (premier prix de harpe et de musique de chambre) dans la classe de Nathalie Henriet. Elle s'est en outre perfectionnée auprès de Marielle Nordmann, Marie-Claire Jamet, Fabrice Pierre, Germaine Lorenzini, Ghislaine Petit-Volta.
Lauréate 2005 de la fondation Meyer, premier prix au concours international de l'UFAM (Union des Femmes Artistes Musiciennes), Delphine Latil a remporté en 2007 le premier prix au concours international Camac à Londres.
Elle a joué sous la direction de chefs tels que Heinz Holliger, Emmanuel Krivine, Christoph Eschenbach, au théâtre du Châtelet, salle Pleyel, Cité de la musique...
En 2007 elle crée le trio LATIL avec son frère violoniste et sa soeur violoncelliste. Ils se sont produits notamment au Festival de Cormeilles et à l'abbaye de Flaran. Elle a également créé plusieurs spectacles de théâtre musical en tant que harpiste et comédienne.
Delphine Latil est depuis 2008 professeur de harpe au conservatoire de Nanterre.
Elle s'apprête à enregistrer un disque consacré à l'œuvre d'André Caplet en compagnie du quatuor Stanislas et de l'acteur Roland Giraud.
Debra Takakjian
Debra Takakjian, pianist, originally from New York, studied French music with the legendary Gaby Casadesus, Philippe Bianconi and Philippe Entremont. Debra has a life time of performances as a soloist and chamber musician, most notably at Carnegie Zankel Hall, Weill Recital Hall, Steinway Hall (New York and London), Château de Fontainebleau, American Church of Paris Atelier Series, L'Heure Musicale au Marais (Paris) and at the International Rachmaninoff Society Conferences (London 2005, Amsterdam 2006 & New York 2007). Debra Takakjian has produced many chamber music recitals in New York and Paris since 2002. She is the founder of Ondine Musique, a Paris-based chamber music ensemble.
Project supported by the France/New Zealand Friendship Fund