Nigel Keay - Duo for Violin & Viola "Visconti Variations"
(2008)
In Four Movements: 1. Lento (2' 43"), 2. Allegro (1' 47"), 3 Adagietto (3' 32"), 4. Allegro moderato (1' 42"). Total duration: 9' 57". Score - Duo for Violin and Viola, PDF 9 pages, 246Kb (rev. 5th May 2009)
Alternative violin score-part with Fourth Movement on 2 pages. (rev. 2018)
Alternative viola score-part with Fourth Movement on 2 pages. (rev. 2018)
"Visconti Variations" was first performed on 30th April 2009 by Guan-Xi Masse (violin) and Nigel Keay (viola) in the Grand Salon of the Fondation des États-Unis, Paris, as part of an Orchestre 2021 concert.
"Visconti Variations" was recorded on 1st june 2010 by Simone Roggen (violin) and Cyprien Busolini (viola). This recording appears on the blumlein records CD of Nigel Keay's chamber music Music for Small Groups. First Movement mp3, Second Movement mp3, Third Movement mp3, Fourth Movement mp3.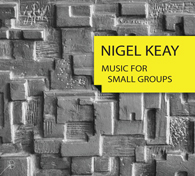 "Visconti Variations", the title of the violin & viola duet refers to rue Visconti, Paris, a street in the 6th Arrondissement (district) with a long and colourful history. Over the years, a large number of painters, sculptors and lithographers have lived and worked in rue Visconti. The first movement of this work was written for the birthday of a friend who is a resident of rue Visconti, and was first played in the same building where Delacroix had painted portraits of Chopin and George Sand. After the first airing of this single movement duet I decided to add several similarly short movements, each based on the ideas introduced in the first. I would describe the resulting multi-movement work as "neo-classical" in its form and general conception, influenced by reflecting on these echoes of the past, present in the building.
The first movement is constructed around a long sinuous melody introduced by the violin and harmonized by a counter-melody of similar contour in the viola. It features cross rhythms between the two instruments; two against three and three against four. Sometimes the instruments are playing in a rhythmic unison.
The second movement, inspired by classical textures is constructed on a rapid hocketing idea where the viola chases the violin. Both instruments employ a three-octave range and at times the parts cross over so that the violin is under the viola in register. In this movement both instruments share the same material played at different times.
The third movement is constructed on the same melodic and contrapuntal ideas as the second movement but at a very much slower pace creating a mysterious atmosphere where the harmony takes a long time to resolve.
The fourth movement is built on a rapid compound triple metre driven mostly by the viola while at the same time the violin enjoys a more expansive and simpler melody sometimes playing duplets across the entire bar to form cross rhythms with the motoric viola part.