Nigel Keay - Trio for Clarinet, Viola & Piano (2009)
"Adagietto Antique"
for Clarinet in A, Viola & Piano in four movements - Duration: ca 15 minutes
1. Adagietto Antique (ca. 4'28"), 2. Allegro Moderato (ca. 5'00"), 3. = 112 (ca. 1'53"), 4. Adagio (ca. 4'32")
Audio of Trio; First Movement mp3, Second Movement mp3, Third Movement mp3, Fourth Movement mp3. Performed by Erika Bliznik - clarinet, Nigel Keay - viola, Jeffrey Grice - piano
The Trio for Clarinet Viola & Piano was completed in 2009. The title Adagietto Antique is a reference to the first movement, which draws inspiration from Ravel. At the time of writing I was rehearsing/performing Ravel's String Quartet in F Major. The instrumentation was chosen as it includes the viola, my own instrument, and I was rehearsing to give a concert in a group of this formation. Also, the idea of writing such a trio appealed because of this grouping's somewhat orchestral and spatialised character with its varied range of timbres.
A particularity of this trio is its overall form where the work is framed by two slow movements, an Adagietto first movement then the fourth movement Adagio. These two slow movements, aside from their different tempi, show an evolution from a more direct and rhythmically agitated idea to a slower adagio that is elegiac and reflective. The second movement and brief third movement form a diversion, elaborating material announced in the opening movement, to create an arch form across the entire work.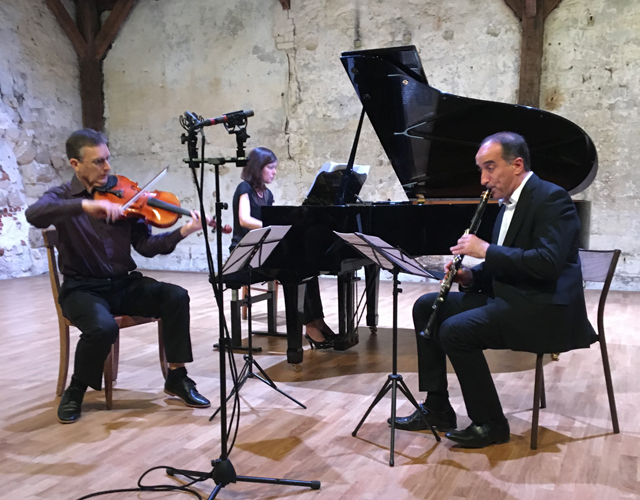 Performance History
The Trio was first performed on October 14, 2010 at the Atelier de la Main d'Or, Paris by the composer's own group with Erika Bliznik, clarinet, and Jeffrey Grice, piano. Details of concert.
27 October 2012, 5pm. Jean-François Bescond - clarinet, Nigel Keay - viola, Dora Cantella - piano. Grand Auditorium of the Conservatoire à rayonnement régional de Paris, 14 rue de Madrid, 75008 Paris. Concert Cantus Formus
Saturday 14th September 2019, 7.30pm (photo above). Jean-Marc Fessard (clarinet), Nigel Keay (viola), Gwenaëlle Cochevelou (piano). Le Regard du Cygne, 210 Rue de Belleville, 75020 Paris. More info; Concert by La Vie des Sons (LVDS).
Saturday, 17 September 2022, 20h00. Concert by the ensemble Traces d'Aujourd'hui at the Temple de Port-Royal, 18 bd Arago, Paris 75013. Valérie Guéroult - clarinet, Nigel Keay - viola, Isabelle Dutel - piano.
Contemporary trios for clarinet, viola & piano.