Nigel Keay - Oboe Sonata
(2011)
In three movements, duration: ca. 13 minutes; 1. Andante (5' 00") 2. Lento (5' 00") 3. Allegro (3' 00")
Audio: First Movement mp3, Second Movement mp3, Third Movement mp3 (Live recording of premiere performance).
Oboe Sonata - Score, PDF, 14 page, 303Kb Oboe Sonata - Oboe Part, PDF, 6 pages, 99Kb
The Oboe Sonata was composed in 2011/12 for Marika Lombardi and Nathalie Dang. The idea of writing a specifically oboe work grew out of my earlier collaboration with Marika Lombardi on Diversions for Quintet, and from also hearing the duo performing together during their recital as part of the Parisian festival "Oboe".
As an abstract work, the Sonata features much interplay between the oboe and piano treated as equal partners. The oboe often enjoys many long lyrical lines throughout which are introduced and developped from the outset.
The first movement, a rather moderately-paced Andante, launches itself with an easy flow then passes through several intense and rhythmically active episodes.
A feature of the second movement, slow and somewhat intense, is its construction around the number five. It is a Lento in 5/4 and often the music falls naturally into five and ten beat phrases. Several previous works had employed a compound triple metre reminiscent of classical era music so I wanted to create a movement where the rhythmic schema seemed to mark a departure from this.
The Sonata finishes with a lively shortish third movement constructed around material from both the first and second movements. The intensity of the central second movement gives way to an exuberant and somewhat playful mood.
Performance history;
"Duo à la française"; Marika Lombardi (oboe) and Nathalie Dang (piano) first performed the Oboe Sonata on Saturday 23rd February 2013, 8.30pm at the Auditorium de la Cité des Arts, 18 rue de l'Hôtel de Ville, Paris, 4ème. Video of this performance:
Marika Lombardi and the pianist John-Paul Muir performed the first movement from the Sonata as part of Nigel Keay's Live Session for the programme Tapage Nocturne on Radio France Musique (14th Octocber 2013).
Performed by Marika Lombardi and Nathalie Dang on Sunday 18th October 2015, 6.30pm on Bateau Daphné, Quai Montebello, Paris.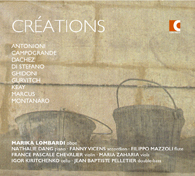 A recording of the Sonata was released in May 2016 on the Continuo Records double-CD Créations featuring Marika Lombardi playing ten new works for oboe, composed between 2008 and 2014 by nine different composers from Italy, France, Belarus, USA, and New Zealand. http://continuorecords.com/index.php/it/catalogo/item/78-marika-lombardi-creations#anteprima