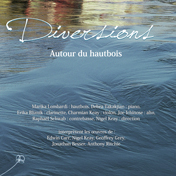 Peter Mechen wrote about Diversions: "Nigel Keay's Diversions 1 & 2 for strings and wind presented a Janus-like face whose opposite aspects contrasted the wit and energy of one piece against a more serious and impassioned impulse throughout the other."
Diversions was released by Blumlein Records on a CD titled "Diversions - Autour du hautbois" in September 2010.
A second recording of Diversions was released in 2015 on the CD the dancer leads the procession by Nigel Keay
Performance History
Fondation des Etats-Unis (Grand Salon), 15 boulevard Jourdan 75014 Paris, 30th October 2008, 8.30pm. Performed by Herbert Lashner - oboe, Erika Bliznik - clarinet, Aude de Larouzière - violin, Nigel Keay - viola, Guillaume Pagnon - contrabass.
NZ Embassy Paris for the France-NZ Association AG, Friday 30th January 2009. Performed by Marika Lombardi - oboe, Erika Bliznik - clarinet, Aude de Larouzière - violin, Nigel Keay - viola, Guillaume Pagnon - contrabass.
Paris Oboe Festival, Le Bateau Daphné, Quai Montebello, 75005 Paris, 7th March 2010, Performed by Marika Lombardi, Erika Bliznik, Charmian Keay, Joe Ichinose & Raphaël Schwab.
Providence United Methodist Church, 21st March 2010. Performed by musicians from the Charlotte Symphony Orchestra (North Carolina). The players were: Hollis Ulaky - oboe, Dru DeVan - clarinet, Tatiana Karpova - violin, Ellen Ferdon - viola & Jeff Ferdon - double bass.
Auditório do Conservatório Nacional do Porto, Portugal, 30th March 2011. Diversion 1 performed by Quinteto Contraste. The concert was broadcast live on the station Antena 2, Rádio e Televisão de Portugal (RTP). Quinteto Contraste: Luís Alves, oboe | David Silva, clarinet | Mariana Costa, violin | Sara Barros, viola | Samuel Abreu, double bass.
Spiegelfoyer Chamber Music Concert, Graz Opera, Austria, Monday 13th May 2013, 7.30pm. Performed by the Elm Ensemble (Yukiko Imazato-Härtel - violin, Oliver Biber - viola, Kamen Nikolov - oboe, Christoph Gaugl - clarinet, Rudolf Thausing - contrabass). Programme PDF
Kerr Street Artspace, Devonport, Auckland in a concert by the Intrepid Music Project. Sunday 15th December 2013 7pm. Musicians; Charmian Keay - Violin, Rachel Grimwood - Viola, Gemma Price - Oboe, Finn Schofield - Clarinet, Eric Scholes - Double Bass.
Tuesday 7th April 2015, 7.30pm. Quinteto Contraste performed Diversion 1 in a concert of chamber music at Casa da Música, Porto, Portugal. Programme notes PDF.