Diversions -
Programme Note
Diversions for Quintet was written in 2003. The idea of a work for winds & strings grew out of two influences: the composer's involvement in a group that had been playing the Prokofiev Quintet in G minor (Op.39) for Oboe, Clarinet, Violin, Viola & Double Bass, and his involvement in a performance of Copland's Appalachian Spring for the original version of nine strings, three winds & piano.
The title "Diversions" was initially chosen using the word in the sense of "distraction", or, in other words, to be intended that the idea behind the work is essentially abstract without any attempted profound philosophical attachments, or images, in the Stravinskian sense that music is about nothing more than itself - something that I had been pondering at the time. But of course there is another sense to the word "diversion" which is "diverting from a specified course", and here the question can be posed; what is the specified course for a composer? And if there is none, can there ever be a diversion? Each chooses one's own language.....
Diversions was first performed by the musicians of Orchestre 2021 on Thursday 30th October 2008, 20h30 in the Grand Salon of the Fondation des Etats-Unis, 15 boulevard Jourdan, Paris. The players were: Herbert Lashner - oboe, Erika Bliznik - clarinet, Aude de Larouzière - violin, Nigel Keay - viola, & Guillaume Pagnon - double bass.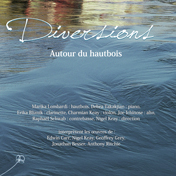 Peter Mechen wrote about Diversions: "Nigel Keay's Diversions 1 & 2 for strings and wind presented a Janus-like face whose opposite aspects contrasted the wit and energy of one piece against a more serious and impassioned impulse throughout the other."
Diversions was released by Blumlein Records on a CD titled "Diversions - Autour du hautbois" in September 2010.
A second recording of Diversions was released in 2015 on the CD the dancer leads the procession by Nigel Keay
Performance History
Fondation des Etats-Unis (Grand Salon), 15 boulevard Jourdan 75014 Paris, 30th October 2008, 8.30pm. Performed by Herbert Lashner - oboe, Erika Bliznik - clarinet, Aude de Larouzière - violin, Nigel Keay - viola, Guillaume Pagnon - contrabass,
Paris Oboe Festival, Le Bateau Daphné, Quai Montebello, 75005 Paris, 7th March 2010, Performed by Marika Lombardi, Erika Bliznik, Charmian Keay, Joe Ichinose & Raphaël Schwab.
Providence United Methodist Church, 21st March 2010. Performed by musicians from the Charlotte Symphony Orchestra (North Carolina). The players were: Hollis Ulaky - oboe, Dru DeVan - clarinet, Tatiana Karpova - violin, Ellen Ferdon - viola & Jeff Ferdon - double bass.
Auditório do Conservatório Nacional do Porto, Portugal, 30th March 2011. Diversion 1 performed by Quinteto Contraste. The concert was broadcast live on the station Antena 2, Rádio e Televisão de Portugal (RTP). Quinteto Contraste: Luís Alves, oboe | David Silva, clarinet | Mariana Costa, violin | Sara Barros, viola | Samuel Abreu, double bass.
Spiegelfoyer Chamber Music Concert, Graz Opera, Austria, Monday 13th May 2013, 7.30pm. Performed by the Elm Ensemble (Yukiko Imazato-Härtel - violin, Oliver Biber - viola, Kamen Nikolov - oboe, Christoph Gaugl - clarinet, Rudolf Thausing - contrabass). Programme PDF
Kerr Street Artspace, Devonport, Auckland in a concert by the Intrepid Music Project. Sunday 15th December 2013 7pm. Musicians; Charmian Keay - Violin, Rachel Grimwood - Viola, Gemma Price - Oboe, Finn Schofield - Clarinet, Eric Scholes - Double Bass.