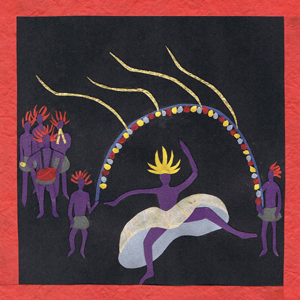 My first exposure to the traditional music of Indonesia came in 1980 while studying composition at Victoria University of Wellington. The School of Music housed two full sets of gamelan instruments on loan from the Indonesian Embassy. I participated in regular rehearsals and performances of this traditional percussion orchestra comprising gongs, metallophones, marimba-like instruments & drums, etc. The group was on occasions aided by the cultural attaché from the Indonesian Embassy in Wellington.
An extended stay of several months in Central Java, Indonesia, in 1984, allowed me to gain more exposure to the gamelan in its authentic cultural context, and appreciate the other associated traditional arts - dance and puppetry. The influence of hearing this uniquely timbred and structured music eventually filtered through to my composition, most notably from 1989 to 1992.
The first image was very specific; that of a dancer leading a procession to the music of the gamelan. Rapid hocketing textures in the the upper strings were laid over long bass notes which represented the large gongs.
The Adagio is a movement of very simple and minimal construction where time is suspended, reflecting the period of the day in Java where the overbearing heat causes everything to stop. Only the long resonances of the gongs from the gamelan orchestra are to be heard.
Ten years after composing Three Images of Java the work morphed into my single-movement piano piece the dancer leads the procession. The second and third movements became variations on the original material, with only the first movement staying largely the same.
The Adagio has been performed on several occasions, notably in January 2005 by the Paris Choral Society Orchestra in a special commemorative concert for the victims of the December 2004 tsunami.